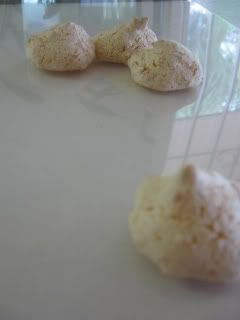 Simply more-ish!
Lately, I haven' had that much time to myself to bake as I have been moving house.. I really wanted to get my baking fix but really only had limited time... and when you move house with the people I live with, well it seems like your the only one who puts in any effort.

Anyways.. I was searching recipes on
http://www.taste.com.au/
instead of working (he he) and stumbled across the recipe for Coconut Macaroons. With only 3 ingredients and 20 mins cooking time, I couldn't help but make these.
So simple to make, if you have ever made royal icing, then you can make Coconut Macaroons..
Ingredients


3 eggwhites, at room temperature
1 1/2 cups caster sugar
1/2 tsp vanilla extract
1 1/2 cups desiccated coconut- I tweeked this a little bit, I used shredded coconut

Method


Preheat oven to 180°C. Place the eggwhites in a bowl and use an electric mixer to beat until soft peaks form.
Add the sugar, 1/2 a cup at a time, beating continually, until the mixture becomes stiff and glossy. Add vanilla extract and fold through with a spatula.
Add the coconut, 1/2 a cup at a time, and gently fold through with a spatula until evenly distributed, being careful not to overwork the mixture.
Place spoonfuls of the batter onto a baking tray lined with greased baking paper. For classic French-style macaroons, use a piping bag.
Bake in the oven for 15-18 minutes, or until the macaroons are lightly browned. Remove from the baking paper immediately and cool on wire racks before serving.
and Vio-la! Light, airy and don't forget really delcious tea time treats!