As Australia Day has just gone by, I wanted to kick off my blog with something that represents our country -
Just being a little bit patriotic here.
So I thought, what symbolises our country more than ANZAC bikkies?
Just a little bit of a history lesson here:
These beaut bikkies were originally thought up by the loved ones of Australian soldiers as they were concerned about the nutritional value of the supplies given to their fighting men. However any food they would have shipped over would spoil in the time it took to get them over there.
A body of women did come up with an answer, Soldiers Biscuits - a Scottish recipe using rolled oats. These biscuits would remain edible for up to 2 months due to the lack of egg as a binding agent.
Now, I bet you are wondering why they are now called ANZAC biscuits.. Well, after the Australian and New Zealand Army Corps landed in Gallipoli, they were finally renamed ANZAC Biscuits!
Well, there you go, you learn something new every day!
I sourced this recipe from
http://www.taste.com.au/
-
This is one of my favourite websites, it's great source for recipes when you are feeling uninspired.
ANZAC Biscuits
Ingredients
1 1/4 cups plain flour, sifted
1 cup rolled oats
1/2 cup caster sugar
3/4 cup desiccated coconut -
I got a little bit excited and used a whole cup of coconut, wouldn't advise this as I had to use extra butter and treacle to help bind all of the dry ingredients
2 tablespoons golden syrup or treacle
150g unsalted butter, chopped
1/2 teaspoon bicarb soda

Method
Preheat your oven to 170°C.
Place the flour, oats, sugar and coconut in a large bowl and stir to combine.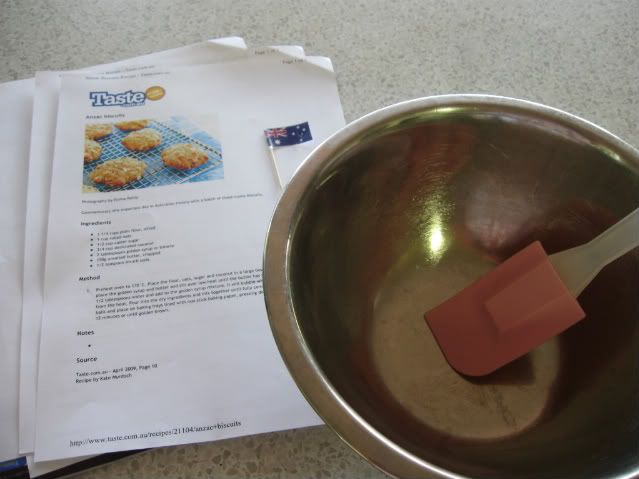 In a small saucepan over low heat, melt the golden syrup and butter. Mix the bicarb soda with 1 1/2 tablespoons water and add to the golden syrup mixture. It will bubble whilst you are stirring together so remove from the heat. Pour into the dry ingredients and mix together until fully combined.
Roll tablespoonfuls of mixture into balls and place on baking trays lined with non stick baking paper, pressing down on the tops to flatten slightly. - I suggest flattening the balls of dough in your hands so that they don't crumble.
Bake for approx 12 minutes or until golden brown- Keep an eye on them, if your oven is anything like mine, it would want to burn things the second you look away!

And ta da! crunchy more-ish ANZAC Biscuits. Perfect with your morning cuppa!

Let me know how you guys celebrated Aus Day!